Microsoft List is announced and starting to bring data storage, presentation and functionality to a new level for rowbased data. Some have the Microsoft Lists in their tenants and others need to do a little trick to see Microsoft List:
Open OneDrive for Business in web browser and at the end of the URL change "…/onedrive.aspx" to "…/lists.aspx". Voilá, the Microsoft Lists "dashboard" is shown:
In this blog post I want to compare the classic SharePoint list with a Microsoft Lists list.
On the first view you can create custom lists, add columns, do column formatting, Power Apps as Input form, Power Automate and more on both.

It seams the Microsoft Lists UI, the features and possibilites are the same and Microsoft Lists uses the same code as SharePoint Lists. A good thing, not much new to learn ;-)!
At the date of writing this blog post I found some differences. Here they are:
1. Customizing the input form via PowerApps for SharePoint shows all columns correct (left), but for the Microsoft Lists list my 6 custom columns are missing and 4 standard columns are displayed.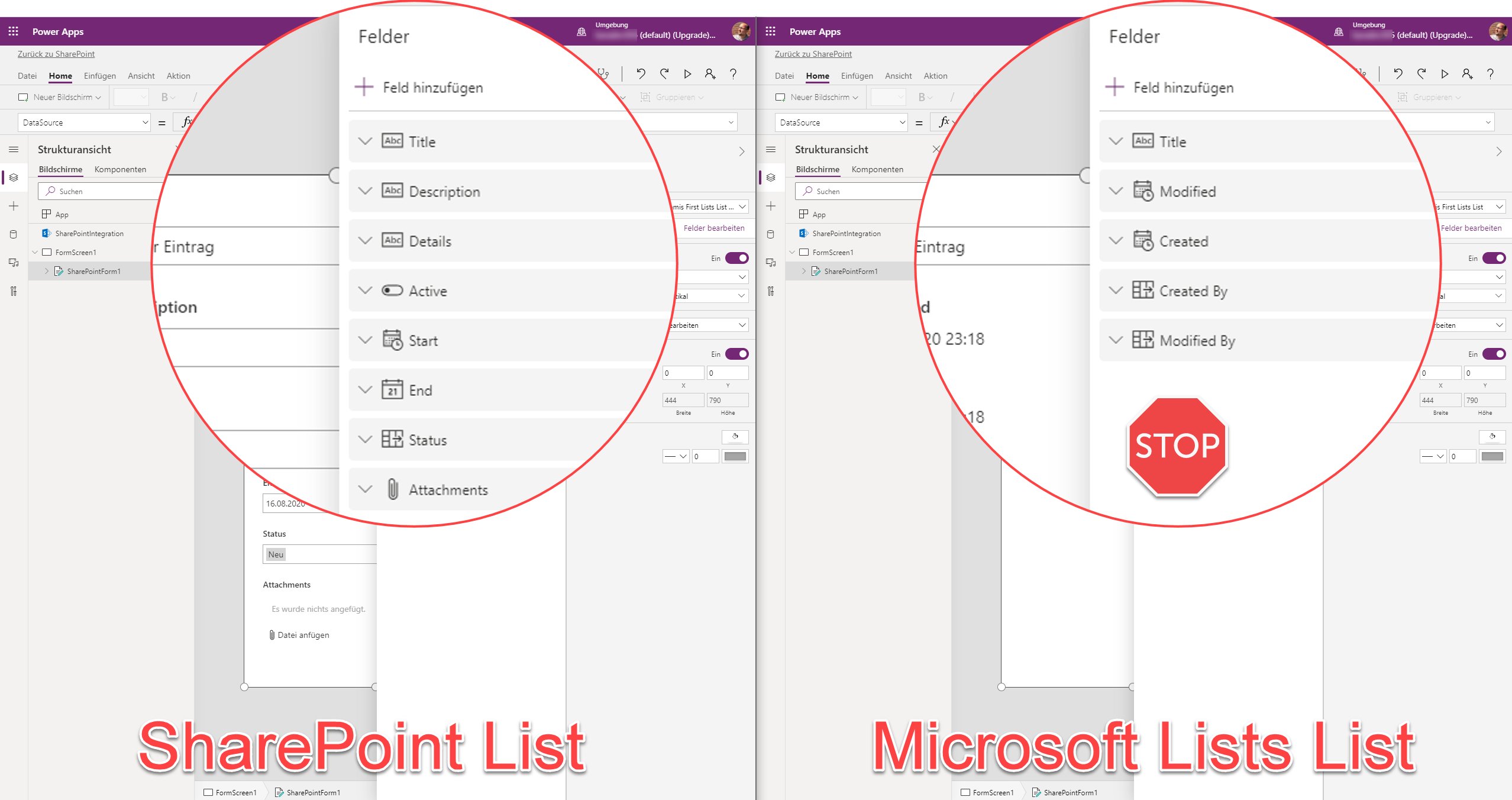 In the Microsoft Lists list PowerApps app you can select the custom columns manually (right) and you get the same app as for the SharePoint list.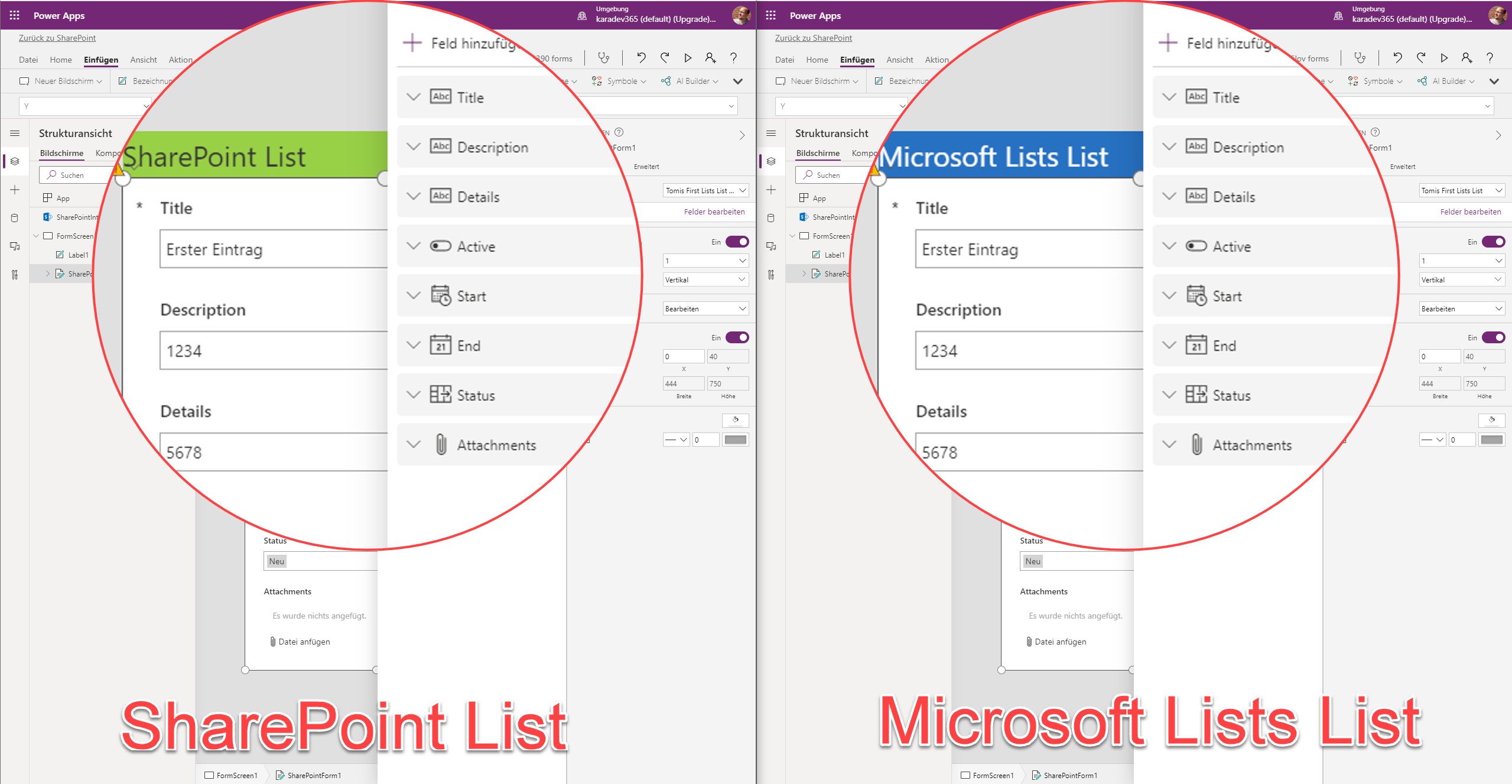 After saving and publishing I can see the PowerApps app when clicking "New" on the list in SharePoint (left). In Microsoft Lists the "NewForm" is empty! I am using Chrome.

2. In the list properties the Microsoft Lists list has one additional "General Setting": Rating settings. And the order of the colums is different.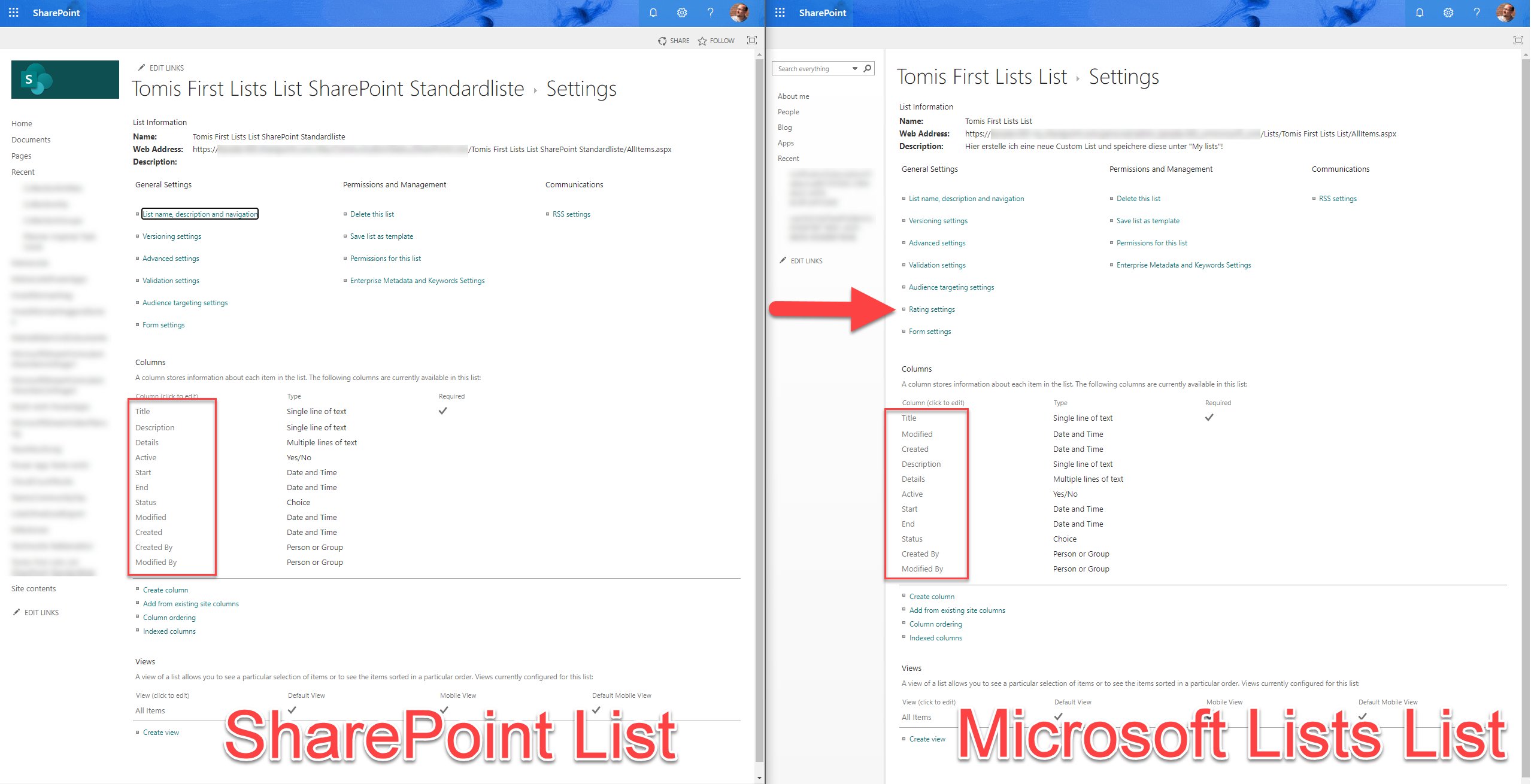 Adding a Power Automate flow to send a mail when a new item is added works on SharePoint and on Microsoft Lists list.

3. In the list view PowerApps and Automate (Power Automate) are in a changed order:
– SharePoint list: PowerApps – Automate
– Microsoft Lists list: Automate – PowerApps

4. In SharePoint lists view you have an "Expand content" and "Collapse content" option. If expand is clicked, the SharePoint header is hidden and the list view is similar to the Microsoft Lists experience.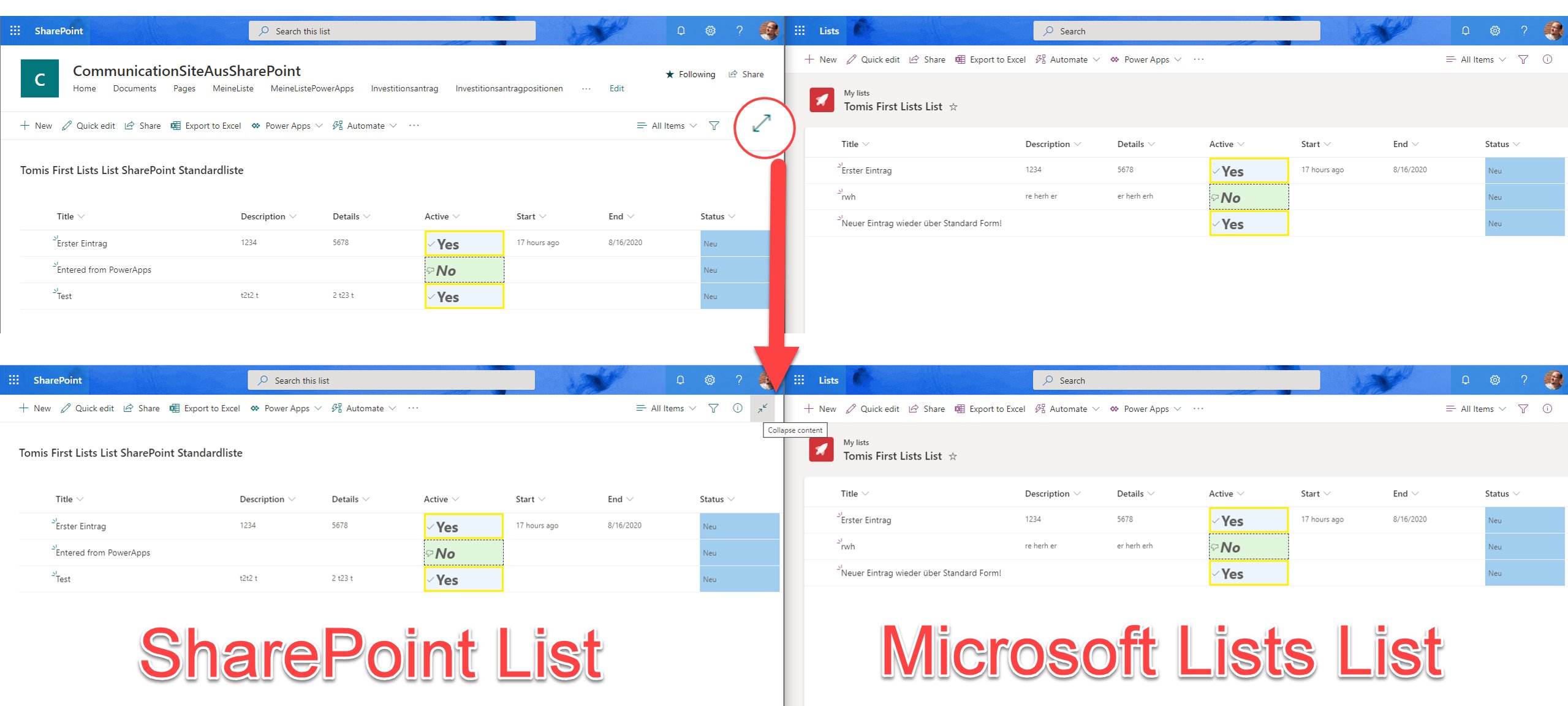 5. Clicking on the lists name brings a different rename dialog (left SharePoint; right Microsoft Lists).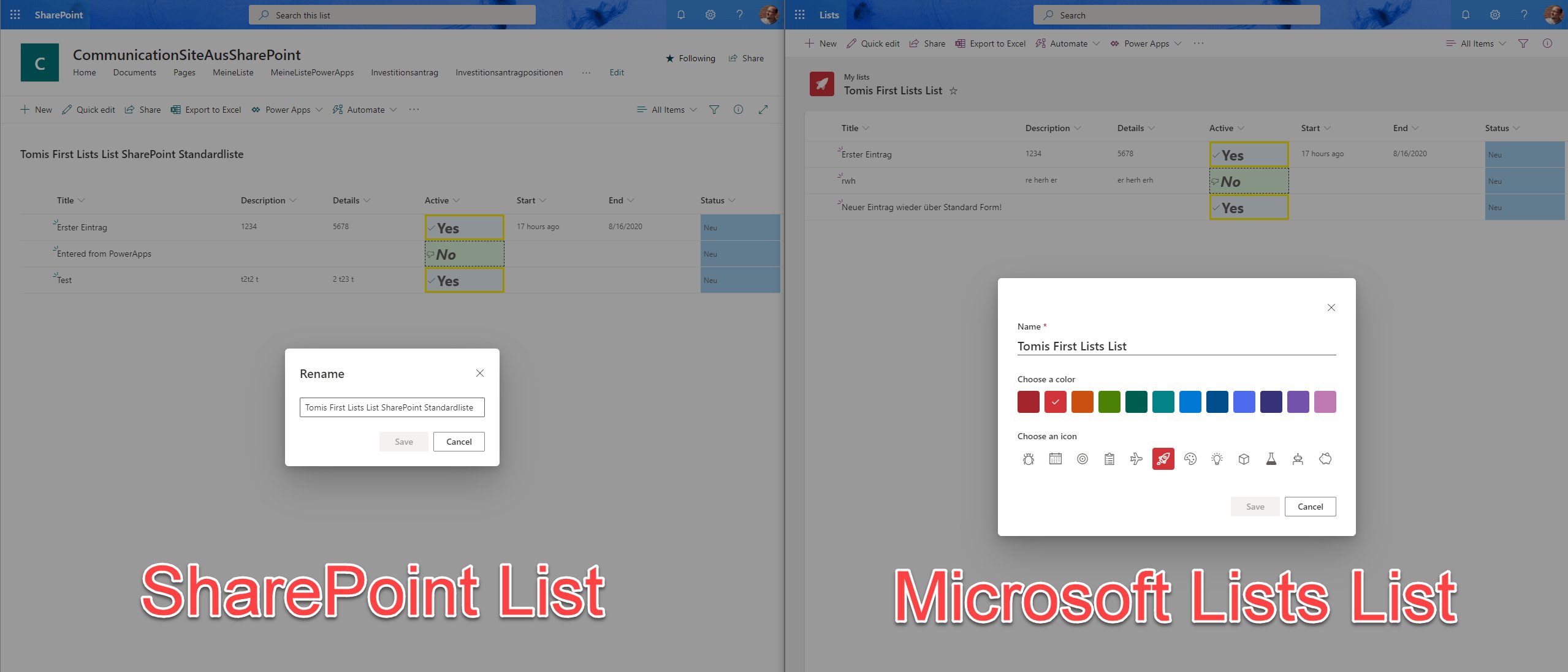 In Microsoft List you can rename, change the color and select a new Icon! In SharePoint you can only change the list name.
6. In Microsoft Lists you can click on the asterisk to the right of the list name to choose the list as your favorite. You see such marked lists in the Microsoft Lists "Dashboard" at the top (right bottom)!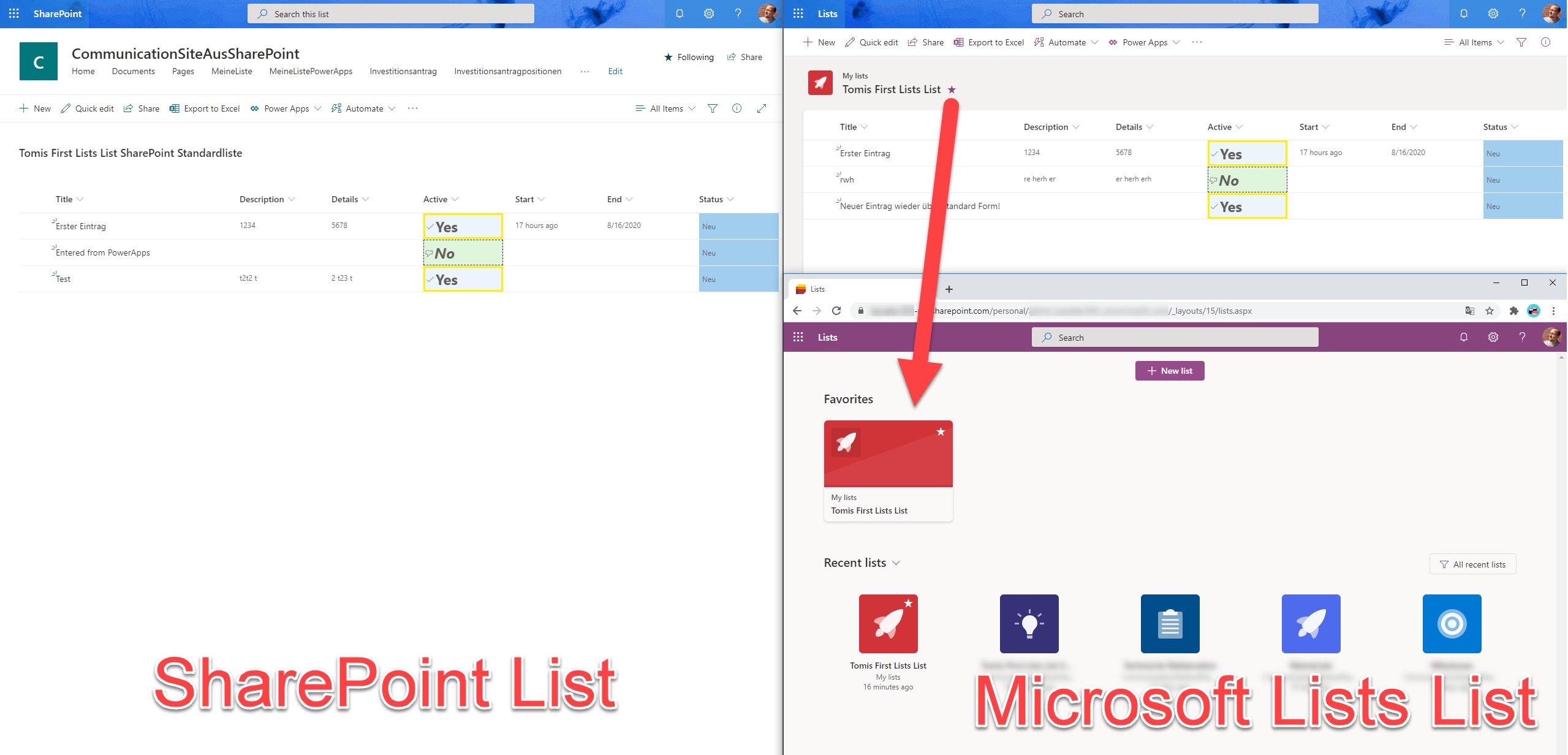 That are my findings for the date of writing this blog post. Let`s see what the future would bring with Microsoft Lists!